Integration, Inc. has been providing EDI for clients for over 30 years. As experts in this industry, we fully understand the importance of what you are facing as a business owner and will help you every step of the way, no matter the size of your company.
What Is EDI (Electronic Data Interchange)?
Simply put, EDI is the intercompany exchange of business documents in a paperless format. Let's say that you have a purchase order or an invoice. When using paper documents and other formats of communication, these documents will take hours, days, or weeks to send to a business partner. EDI allows these important business documents to be shared rapidly with your business partners in a standardized format. 

What Are Some Common Examples of EDI?
There are hundreds of business documents that can be transmitted via electronic data interchange. Here are some common examples of EDI:
Purchase Orders (EDI 850): Purchase orders are usually the first step in an ordering process to vendors.
Shipping Statuses (EDI 214): This is a type of EDI transaction code sent by a carrier or a third-party logistics company to let a buyer or shipper know the status of their order.
Invoice (EDI 810): This is a type of EDI notice that can be sent to a buyer requesting payment to agreed upon terms.
Request For a Quote (ED 840): Buyer can use this EDI transaction to request information such as price and delivery information from a potential supplier.
What Types of Businesses Use EDI?
Historically, EDI was used by automotive and retail businesses. In recent years, EDI has expanded in use to include manufacturing, healthcare, and even construction companies. There are even EDI codes for grocers, ranging from purchase orders to invoices. If you send documents via mail, PDF, or another method, EDI is a good fit for your business.
Even in 2022, many businesses are still using manual processes to communicate documents that are vital for doing business. It is estimated that as many as 85% of businesses use some sort of EDI, but as many as 40% of businesses could be using manual document exchange as part of their business.
What Are the Benefits of Using Integration, Inc. For Electronic Data Interchange?
If your business sends paper documents or PDFs via email and those documents utilize the same form of data, you can benefit from an EDI solution. EDI will:
Save your business time.
Reduce overhead cost if you utilize paper documents and mail.
Reduce drain on your business's resources and reduce the amount of human error.
Increase security for your business.
Make your business more effective and efficient.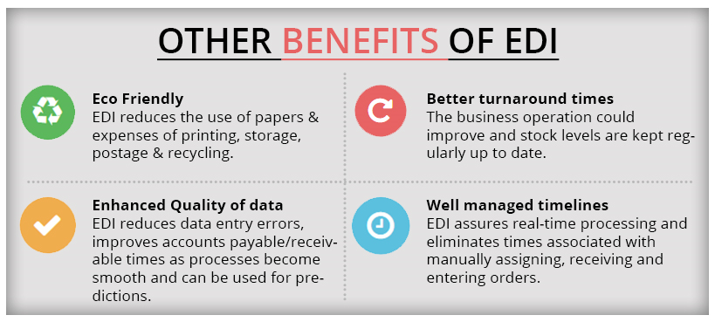 Integration, Inc. is the leading provider of EDI. We meet all of your trading partner requirements and are 100% secure. We have been in business for 30+ years and offer dedicated phone and email support.
Consider outsourcing your EDI.
Even though you might not know a lot about EDI, that should not stop you. You can still implement a solution and get all of the benefits EDI has to offer. Let Integration, Inc. help you with an outsourced solution that will save you time and money and not take any of your in-house resources. We are experts and you can tap into that resource to quickly and easily trade business documents with your customers or suppliers.