Utilizing Electronic Data Interchange (EDI) services can provide a substantial cost-savings for businesses, as well as enhance business-to-business communication. EDI also helps to increase efficiency throughout your organization. Many businesses accomplish these improvements by partnering with an EDI processing expert. EDI can help increase the efficiency of your business through the following: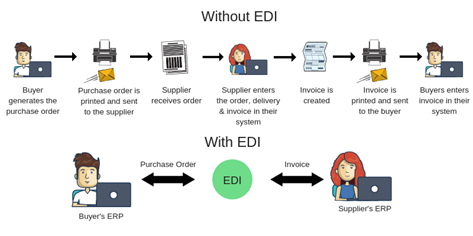 Improve the processing speed and accuracy of document movement. Document movement is the heart of procurement, ordering, invoicing, and other related processes. Partnering with an expert EDI processing organization, your business will be able to enable speedy, accurate, and touchless handling of documents from beginning-to-end. Adding EDI will allow you to eliminate time consuming manual data entry, which is never completely dependable.
Utilizing EDI allows your business access to working with a variety of other businesses. Many organizations today only use EDI to transmit documents from business to business. That said, if your business is not meeting data transfer EDI standards, doing business with EDI integrated companies will not be a choice. Becoming EDI capable is your best option for optimal data transfers & expanding your organization.
Partnering with an EDI expert is your best bet to smooth, successful EDI integration. Typically, it is more cost-effective to outsource EDI entirely to an EDI service provider, such as Integration, Inc. Once your business is EDI capable on Integration, Inc.'s system, they will ensure that your EDI transactions are 100% compliant with all of your EDI with trading partners. Each industry holds their own set of EDI exchange regulations and working with an EDI expert partner will keep your business on the right track for complying with the EDI standards necessary for your specific industry.
Choosing the Right EDI Outsourcing Company for My Business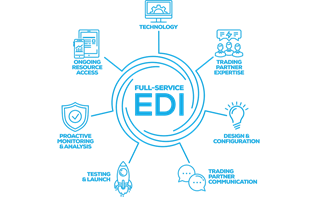 Outsourcing EDI adds to cost-savings by streamlining the process even further, but with more than half of an organization's revenue being processed through EDI operations, it makes processing EDI correctly vital to the success of a business. EDI processing for many businesses is quite intricate and requires advanced knowledge of EDI processing operations to be accomplished correctly. Is this something you feel can be completed correctly in-house? Many businesses admit it is not.
Regardless of whether you develop your EDI infrastructure in-house or outsource your EDI to an expert partner like Integration, Inc., you will still need an EDI VAN (value-added network) provider, which is a network that "meets the security requirements to exchange EDI documents with trading partners." [Definition]
By choosing the right EDI outsourcing expert partner, your business may be able to further increase cost-savings, data productivity and processing accuracy. Integration, Inc. is a trusted, expert EDI partner providing exceptional services to businesses nationwide. Consider the following when searching for the right EDI partner for your organization:
Is the EDI provider experienced?
How many EDI processing relationships does this business have?
Can they offer you EDI processing references or customer testimonials?
Is there EDI processing support available? What is the availability of that support?
Does the EDI outsourcing company keep in contact with your trading partners to guarantee changes are processed correctly and without issue?
Who works directly with the trading partners, you or the EDI partner?
How does the outsourcing company handle various EDI formats?
What file formats do they accept?
Do these requirements work for your business?
Will you need to change the file type you currently use?
Is the outsourcing company able to process and handle the mapping for all the formats and transaction types you need?
Who completes any mapping updates to meet trading partner requirements?
Who responds to incident reports?
How long does it take to make changes to EDI maps?
Is there any additional cost for any changes that occur?
By considering the previously mentioned questions, you should have the knowledge you need to make an informed decision for your company and its EDI processing needs.
Meet Integration, Inc., Your Best Choice in Expert EDI Partnerships
Integration, Inc. is an expert technology company that is dedicated to increasing EDI efficiency and reducing the cost of doing business electronically. Integration, Inc. has created seamless connections between trading partners (customers and suppliers), which allows the Integration, Inc. team to share shipping, receiving, and billing information in a secure, effective and cost efficient manner for every EDI account.
Offering clients over 20 years of experience in providing EDI services to thousands of companies, the Integration, Inc team is here to help each business achieve the following:
Compliance with all of your EDI trading partners (all transactions)
Cost effective method to comply with your EDI requirements
Low cost solution without any in-house EDI experience required
Improved overall EDI efficiency
Secure and timely EDI transaction processing
100% EDI document tracking
Free EDI system maintenance and upgrades
Unsurpassed daily EDI customer support
Contact Integration, Inc. today to learn more about their EDI services, as well as check writing, barcode labels, third party billing,