In the world of business dealings, the phrase, "did you get my email" is more common than almost any other. Ready to skip that conversation-starter? Electronic data Interchange (EDI) allows businesses to skip manual confirmation of receipt step and go straight to real-time, secure, business communications.
EDI is defined as, "the process of exchanging documents between businesses without involving a human component. It can benefit businesses by cutting out human error and decreasing the time it takes to transfer documents down to seconds," according to the Process Improvement Institute.
Benefits of EDI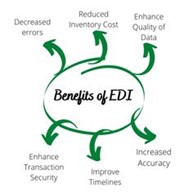 EDI has many benefits for business, including:
Improved time management. In past business experiences, we have all waited for a business process to be completed using manual processing and experienced the time-delay as a result. EDI means no more waiting for invoices or messages to arrive by mail and be manually processed; no more waiting for a person to compile data and send it in email form. EDI documents arrive digitally on a predetermined schedule.
Cost savings. Consider the costs associated with sorting, compiling, mailing, and processing documents in a timely manner. Using EDI will drastically decrease these costs.
Improved processing accuracy. Using EDI means data is transmitted electronically from network to network offering a completely accurate file. Manually inputting data can be misread, misfiled, forgotten, improperly entered with typos, or other errors that cost you time and money. EDI eliminates human error and any possibilities for inaccuracies throughout manual data processing. Some EDI exchanges also include acknowledgement files from both parties so that receipt of documents is automatically confirmed. When EDI is used properly, it will automatically transfer data from one party to another.
Improves customer service & business reputation. EDI also offers businesses an improved way of handling customer complaints, concerns, and requests in real-time, without having to wait for important information to reach a desk or human hand.
Within certain aspects of your business, EDI can play a vital role of keeping a business competitive and relevant. Certainly, email communications remain valuable for business, but not in time-sensitive, data processing roles. For companies that exchange large amounts of documents regularly, EDI provides a streamlined solution that cuts out the middleman and extended waiting times. This is especially true in relation to purchase orders, invoices, ASNs, inventory documents, shipping statues, etc.
The Importance of Increasing Processing Speeds
EDI uses consistent data standards between all involved parties. This makes the transferring of data happen faster and smoother than manual processing ever could. Businesses can get data automatically imported into their system and use EDI for everything from inventory management to customer invoicing.
Mistakes and slow processing are costly for a business. A business that has errors throughout its processes is going to spend a significant amount of time and money addressing these problems, in addition to finding itself dealing with unhappy vendors and customers.
Speed and processing accuracy are vital to success. The faster a business can process its documents, the faster it can fulfill them. One of the biggest immediate benefits of EDI is speed. EDI can shorten the length of time businesses require to process a transaction by up to 20%.
Many businesses spend an exorbitant amount of time on their administrative services. When a business becomes bogged down with documentation, it becomes inefficient and unprofitable. Businesses tend to create progressively more cumbersome systems for manually dealing with their data and their document transfers — when instead they could be dealing with everything automatically by using EDI. As your business grows, it needs to be able to manage each of your vendor and partner relationships better. EDI helps in tremendous ways.
Meet Your Preferred EDI Expert Partner

Integration, Inc. a United States based industry-leading business process outsourcing provider specializing in business process automation (BPA) services, such as Electronic Data Interchange (EDI), check writing, check printing, check processing, rebate processing, barcode labels and third party billing to thousands of companies across the nation.
As a primary BPA outsourcing provider, Integration, Inc.'s goal is to empower all its clients to focus on their core areas of expertise, while leaving the business process automation services to their team of experts. This is accomplished by supplying excellent business process automation services that enhance your company's ability to provide increased reliability and cost savings to your customers. Integration, Inc. enables your company's success by providing complete IT outsourcing solutions for business process automation (BPA).
As a result, this allows your organization to respond rapidly to changing business environments, while meeting your customer's needs consistently and in a more cost-effective manner. To learn more about business process outsourcing, contact Integration, Inc. today, or call (860) 623-0004.