Businesses today face a plethora of challenges in order to become profitable. The biggest issue is continuing to process data manually instead of adding automation to your business. In this time of Coronavirus, many businesses that were processing manually will probably go out of business, if they haven't already. And, even though automated processing of internal, non-core business processes is undoubtedly the way to succeed, there are questions that need to be asked before switching your internal processes from manual to automation.
Review Process Tasks Before Automating Your Business
There are a variety of important details to consider before jumping into a new way of processing your business data. After carefully reviewing company performance metrics, many management-level employees are still unsure what parts of a business they should be automating. Consider the following; Where do we begin? Is it better to start with simple, relatively easy tasks or should the most intricate tasks be automated first? How can we figure out which processes will yield the best cost savings and produce the highest productivity increases? The processes that will show the most improvement should be automated first.
Partner with A Business Process Automation Expert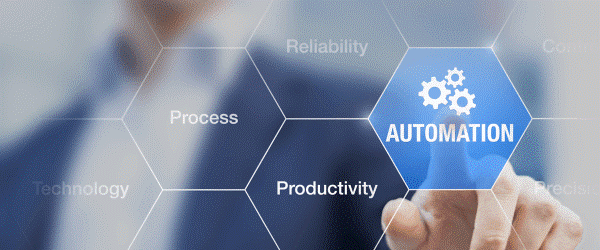 Because the process of implementing automation into your business can be intimidating, the following are several simple and straight-forward questions that will help your business determine what processes have the strongest automation potential and are likely to offer high value returns:
What internal business process requires a heavy load of paperwork?
Is there a paper form that gets routed to different process participants as part of the process?
Which processes are redundant and require no customization?
Is there a process that requires employees use specific paperwork that requires them to spend time looking for forms or documents?
Is there any process utilized by your company that requires any kind of duplication of data?
Do you currently use a system that relies on email notifications in order for employees to proceed to the next step of a process?
Is the completion of a process ever delayed waiting for that approval email?
Does it ever get missed?
What routine business processes are there that can stall because they are overly time consuming?
Are there any processes that do not have an alternative employee back-up should the primary employee who "owns" the process gets sick or goes on vacation?
If you answered a resounding yes to any of these questions, you are looking at a process with automation potential. If you're still not 100% sure whether a process is a good fit for automation or you want more time to figure out the impact of such automation, partnering with a third party automation expert could be the answer you've been searching for.
Meet Integration, Inc. A Business Process Automation Expert
We recommend researching the best third-party automation company to partner with, such as Integration, Inc. As a primary business process automation provider, Integration's goal is to empower all its clients to focus on their core areas of expertise, while leaving the business process automation services to our team of experts. Integration, Inc. associates have served hundreds of business entities by assisting them with their business process challenges.
Integration, Inc. provides a wide variety of Business Process Outsourcing (BPO) services. Integration, Inc.'s primary business process automation services include EDI, Check Writing & Check Printing, Rebate Fulfillment, Barcode Labels, & Third Party Billing services. Integration, Inc.'s BPO team of professionals are available when you need them, supporting your overall productivity and success. One of the most cost-effective and successful ways to accomplish streamlining business functions is to choose the right Business Process Outsourcing (BPO) partner. Integration, Inc.'s team offers a complete set of skills that address a variety of essential business processing needs, backed by cutting edge technological infrastructure investments. Contact Integration, Inc. today for more information regarding adding automation to your business.