Most larger businesses have heard of and are reaping the benefits of using EDI (Electronic Data Interchange) for business data exchanges. However, for all the benefits EDI offers businesses, smaller, less familiar organizations can feel intimidated by the process and its technological complexity. By partnering with an EDI expert, your organization no longer needs to feel out of control for lack of tech-savvy expertise.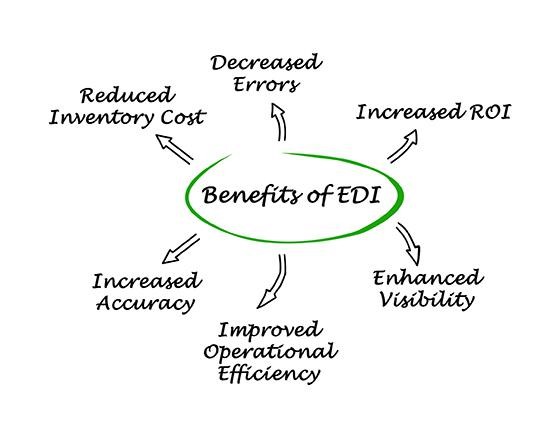 EDI services not only provide a substantial cost-savings for businesses, but EDI is becoming the standard for many businesses participating in data exchanges. What does this mean for companies not using EDI? It means those companies will need to incorporate EDI into their business platforms or be left out of certain business relationships.
EDI itself is the process of electronically exchanging business documents using a standard format that is secure and transmitted via communication protocols, such as a VAN, FTP, sFTP, AS2, etc. Information transmitted using EDI could include purchase orders, invoices, ASNs, etc. Integrating EDI into your business allows your organization to send standardized, secure data that is structured and follows EDI standards. The most used standards throughout the business community include:
UN-recommended UN/EDIFACT – International standard outside North America
ANSI ASC X12 (X12) – US standard
TRADACOMS standard – UK retail industry
ODETTE – European automotive industry
Adding EDI to Your Business
Many businesses accomplish EDI integration by outsourcing their EDI processing needs. Outsourcing EDI does not mean venturing overseas. In fact, companies, such as Integration, Inc., are located across the United States and specialize in the implementation and management of EDI for businesses just like yours.

Adding EDI to your business typically results in cost-savings because EDI works to streamline and automate the manual data exchange process. With more than half of an organization's revenue being processed through EDI operations, EDI makes processing data correctly vital to the success of a business. EDI processing for many businesses is quite intricate and requires advanced knowledge of EDI processing operations in order to be accomplished correctly. Is this something you feel can be completed correctly in-house? Most businesses would answer no.
Finding the Right EDI Partner
A business that specializes in certain business processes, such as EDI, can be considered somewhat of an expert on the process. By choosing the right EDI outsourcing company, you may be able to further increase cost-savings, productivity and processing accuracy. So, how do you know who to trust? Be sure to consider the following when searching for the right EDI outsourcing company:
How Do I Choose the Right EDI Partner for My Business?
Is the EDI provider experienced?
How many EDI processing relationships does this business have?
Is there EDI processing support available?
Does the EDI outsourcing company keep in contact with your trading partners to guarantee changes are processed correctly and without issue?
Who works directly with the trading partners?
How does the outsourcing company handle various EDI formats?
What file formats do they accept?
Do these requirements work for your business?
Will you need to change the file type you currently use? If so, what does that process look like?
Is the outsourcing company able to process and handle the mapping for all the formats and transaction types you need?
Who completes any mapping updates to meet trading partner requirements?
Who responds to incident reports?
How long does it take to make changes to EDI maps?
Is there any additional cost for any changes that occur?
By considering the previously mentioned EDI implementation process questions, you should have the knowledge you need to make an informed decision for your company and its EDI processing needs.
Meet Integration Inc.

Integration, Inc. is your answer to EDI implementation and management. Offering cost-effective business process outsourcing services, Integration, Inc.'s specialties includes EDI implementation, transaction processing & training; remote check writing and check printing services; rebate program management and processing; third party billing, including invoice processing, outsource billing and remittance; and barcode labeling (UCC128 labels). Integration, Inc.'s extensive internal business processing experience brings great benefits to your company. Integration, Inc. values and understands that the business process automation technology playing field is constantly in motion and progressing. Their team works diligently to remain current and successful for clients every day. When your business does not have the resources to keep up with this ever-changing environment, that's when Integration, Inc. can help. Contact Integration, Inc. today for more information about EDI services (860) 623-0004.