If your business is not integrating Electronic Data Interchange (EDI) at this point, you are behind. EDI is no longer an option to add to your business, but rather a necessity. Today, in 2021, EDI is a vital component of doing business in the digital world. Organizations across every industry rely on EDI for its standardized data format and data processes that allow organizations to complete daily business-to-business transactions digitally, securely, and in a timely manner. The EDI process has evolved, and to remain competitive and relevant, your business must evolve also.
What is EDI?
EDI is the exchange of business documents in a standard electronic format between businesses. Some of the advantages of moving to the EDI platform include:

Reduced or Eliminated Processing Errors
Reduced Costs
Automated Workflows
Faster Document Processing
Increased productivity
Why Businesses Use EDI
Businesses across all industries require a data exchange capability. For organizations to succeed there must be processing procedures in place, this is a fundamental need. Manual processes alone can dramatically hurt a business in terms of productivity and the amount of time employees are consumed by completing such processes, as well as errors that result. The more time employees spend processing data and correcting errors, the more employers pay for a process to be completed, which impacts the revenue stream.
By integrating EDI into your business, processing expenses are immediately reduced. Costs connected to paper, processing, printing, filing, postage, and more, are virtually eliminated. EDI data exchange further allows for faster, more accurate exchange of data virtually instantly. Adding EDI in place of manual processing can reduce the overall business processing costs by at least 35 percent. Consider the following benefits of EDI:
Volume: Global EDI transactions are estimated at over 20 billion annually.
Savings: EDI can produce millions of dollars in savings for a business annually, in addition to the typical savings of implementing EDI into your business processing system.
Increased Productivity: Using EDI can increase your business's processing cycles by 61 percent. This would translate into a very nice cost-savings for any business.
Improved Quality: Using EDI can drastically improve the quality of the business process by processing 30-40 percent less error transactions than employee processing. With this improvement comes less time your employees are consumed resolving customer disputes as well.
How to Integrate EDI into Your Business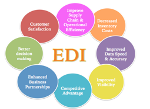 A managed EDI service provider, such as Integration, Inc., works to streamline and coordinate EDI data exchange processing and is responsible for all the major components necessary, which includes the transition of software, managing of the network communications, mapping, and IT and technical support.
Meet Integration, Inc.
As a primary business process automation outsourcing provider, Integration, Inc.'s goal is to empower their clients to focus on their core areas of expertise, while leaving the streamlining process to their team of experts. This is accomplished by supplying excellent business process automation services that enhance your company's ability to provide increased reliability and cost savings to your customers. Integration, Inc. specializes in enabling your company's success by providing complete IT outsourcing solutions for business process automation customers like you.
As a result, this allows your organization to respond rapidly to changing business environments, while meeting your customer's needs consistently and in a more cost-effective manner.